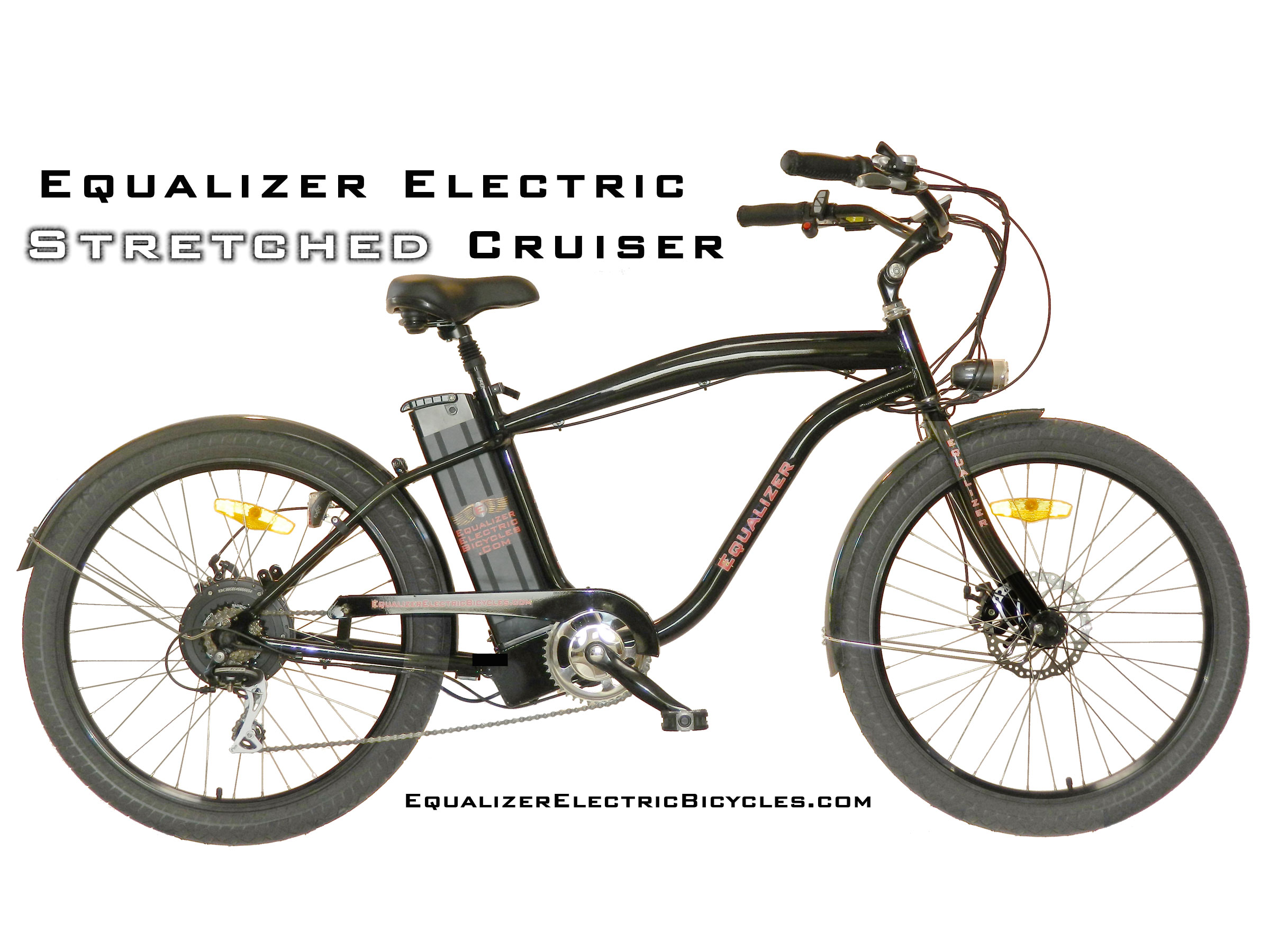 Stretched Electric Beach Cruiser Bicycle

The Stretched Electric Beach Cruiser Bicycle, exclusively by Equalizer. High Quality, Unique and Purpose Built.

Our Name: Equalizer - noun - any conveyance that can create or give advantage to the user, to make equal the tool to the task, to level the odds or give one an advantage.

Our custom stretched electric frame is engineered from the start with integrated battery placement & elegant curves to give it great lines and a low center of gravity. Beach Cruiser sized tires, the largest - heaviest duty motor available, and a relaxed upright seating position make it a pleasure to ride. Bolt on a rack and add some saddle bags and start enjoying your commute and all your errands in the fresh air. Run groceries from the corner store, or supplies for the picnic. From the beach to the mountains and everywhere in between, you can get as much exercise as you wish and still get any where you want fresh and relaxed. Lower your stress level and go for an enjoyable scenic ride. Camping trips, picnics, anything, see life in a new way, relaxed from the saddle of your very own Equalizer Electric Bicycle. Enjoy the smells of open fields as you glide down the road at a brisk 20 MPH. The Equalizer Stretched Electric Beach Cruiser Bicycle with it's 2.4 inch wide tires and long comfortable wheelbase can smooth out any road or bike trail.

Equalizer Electric Bicycles is committed to the highest quality product line possible. The newest technology, the best components, the highest capacities - we strive to make our entire line of electric / human powered hybrid bikes the best available anywhere.

Let an Equalizer Electric Bicycle put the advantages in your favor.
Facts:
1) An Equalizer Stretched Electric Beach Cruiser Bicycle uses only $0.01 of electricity to go 6 miles.
2) Our battery packs will recharge over 1000 times - giving them an expected life of over 80,000 miles.
3) We warranty our bikes for a full year from date of purchase & 3 years warranty on the battery.
Product Details:

Frame: Stretched Electric Custom Cruiser Alloy 6061- Integrated Battery Placement - Long Wheel Base
Motor: Rear Hub - 500W Brushless with Super High Torque Gear Drive
Battery: Samsung Li 48Volt 15Amp Hour Battery - 3 year warranty
Display: Advanced Center Console Display: LCD with speed, range, battery capacity, back lite with headlight control
Advanced Power Management System: 6 levels of pedal assist, 5 Modes, 3 Owner Programmable Modes for personal preferences including: Soft start PAS, ECO, Normal & POWER Modes
Motor Power Controls: 6 Level Pedal Assist Mode & Full Time Full Throttle Controller
Range: 40-80 Miles per charge without pedaling
Wheels & Tires: Alloy w/ 36 x 13 gauge stainless steel spokes 26"x2.4" tires with Quick Release Front Wheel
Brakes: Tektro Electric Bike Disc Brakes Front & Rear
Derailleur: Shimano Acera 7 Speed
Gearing: Shimano 7 speed cassette 12-32
Chain wheel: 42 Tooth Single
Stem: ZOOM Alloy Adjustable
Handler Bar: Alloy 3" Rise Swept Back
Seat Post: ZOOM Alloy with Suspension
Color Options: Frame, Grips & Seat
Additional Details:
Gearing: Cassette Spacing Shimano/SRAM 7. Cassette Body Type Shimano 7. Cassette Cogs 12-14-16-18-21-26-32. Range 12-32. Number of Speeds 7.
Loads & Hill Climb:
Will accommodate a maximum load of rider & cargo up to 270 Lbs.
Hill Climbing Capabilities - Steepness - Motor Only:
Maximum Load (270 Lbs.): incline 3.8% Grade
Medium Load (140 Lbs.) : incline 10% Grade
Power Management System Features:
6 Levels of Pedal Assist System (PAS)
2 Different User Programmable modes (Customizable to Personal Preferences)
Eco Mode - Super efficient mode to maximize range per charge.
Normal Mode - For everyday use: Max 20 MPH.
Power Mode for off road use only: Allows the motor to spin 10% Faster in all levels, applies more power faster and increases top end speed slightly.
*ONLY APPLIES TO LOWER 48 STATES.