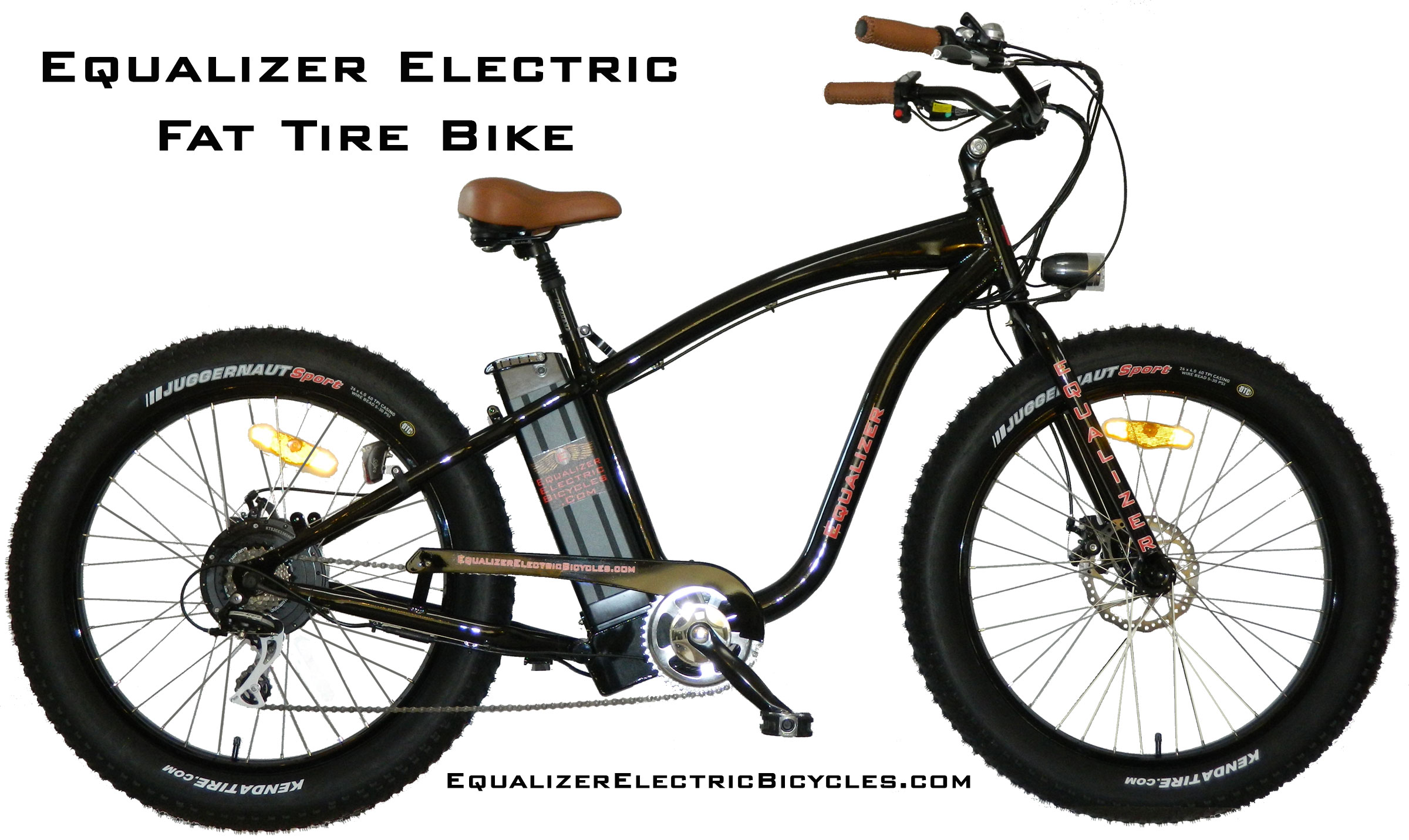 Electric Fat Tire Bike - Beach Cruiser Bicycle
High Quality, Unique and Innovative, The Electric Fat Tire Bike, exclusively by Equalizer.
Our Name: Equalizer - noun - any conveyance that can create or give advantage to the user, to make equal the tool to the task, to level the odds or give one an advantage.
Our Electric Fat Tire Bike frame is engineered from the start with integrated battery placement & elegant curves to give it both grace and balance. A long wheelbase makes it more stable over rough terrain. With a steeper head angle and straight blade fork this bike handles it self like a mountain bike. "Monster" sized tires and the largest - heaviest duty motor available make it a real work horse. This is not your Grand Ma's electric bike. Bolt on a rack and add some saddle bags and start enjoying those errands in the fresh air. Run groceries from the corner store, or supplies to your hunting lodge. From the beach to the mountains and everywhere in between, you can get as much exercise as you wish and still get any where you want fresh and relaxed. Lower your stress level and go for an enjoyable scenic ride. Camping trips, picnics, anything, see life in a new way, relaxed from the saddle of your very own
Equalizer Electric Bicycle. Enjoy the smells of open fields as you glide down the road at a brisk 22.5 MPH top speed. The Equalizer Electric Fat Tire Bike with it's 4 inch wide tires can make any trail a possibility for adventure.

Equalizer Electric Bicycles is committed to the highest quality product line possible. Our bikes are engineered to ADHERE to the maximum legal limits for safety and speed limitations. This qualifies our electric fat tire bikes to legally be ridden on ALL* public roadways, bicycle lanes, bicycle paths, bicycle trails, wilderness trails, beaches, sand dunes, pretty much anywhere - without any license, insurance, or registration fees - please *check your local laws.

The newest technology, the best components, the highest capacities - we strive to make our entire line of electric / human powered hybrid bikes the best available anywhere.

Let an Equalizer Electric Bicycle put the advantages in your favor.
Facts:
1) An Equalizer Electric Fat Tire Bike uses only $0.01 of electricity to go 5 miles.
2) Our
Samsung Li 48Volt 15Amp Hour Battery
packs will recharge over 1000 times - giving them an expected life of over 70,000 miles.
3) We warranty our bikes for a full year from date of purchase & 3 years warranty on the battery.
Get the BEST - Get Yourself an Equalizer!!
Frame:Electric Fat Tire Bike Custom Cruiser Alloy 6061

- Integrated Battery Placement - Long Wheel Base
Attachment Points: Rear Rack, Fenders, Chain Guard, Disc Brakes

Fork Details :

Straight Blade Steel, 135 mm Wide

Motor:

500W Brushless Heavy Duty Rear Hub Motor with Super High Torque Gear Drive

Battery: Samsung Li 48Volt 15Amp Hour Battery - 3 year warranty

Battery

Cells

: Samsung Li 2600 mAh High Density 18650 Cells

Charger: 2 Amp Smart Charger with Overcharge/Overheat protection

Charge Times for 15 AH Battery: Usual Recharge 2-3 hrs, 6 hrs full charge

Display: Advanced Center Console Display: LCD with speed, range, battery capacity, battery voltage & back light

Separate headlight control button

Advanced Power Management System: 5 levels of pedal assist, 5 Modes, 2 Owner Programmable Modes for personal preferences including: Soft start PAS, ECO, Normal & POWER Modes, walking pace mode.


Battery Management System (BMS) with Precise Voltage Measuring

Motor Power Controls: 5 Level Pedal Assist Mode & Full Time Full Throttle Controller:Brake Lockout for safety.


Range: 35-70 Miles per charge without pedaling

Top Speed 22.5 MPH

Wheels: Powder Coated Double Wall

Alloy

Rims with Sealed Bearing, Quick Release Front Wheel

Spokes: 36 x 13 gauge (2.3mm) stainless steel spokes

Tires: Kenda

Juggernaut Sport

Steel Bead 26"x4" knobby tires

Brake Brand: Tektro Electric Bike Disc Brakes Front & Rear

Brakes: Mechanical Disc with 177.8 mm (7") Rotor

Derailleur: Shimano Acera 7 Speed

Gearing: Shimano 7 speed cassette 12-32

Chain wheel: Steel 42 Tooth Single Sprocket


Cranks:

Aluminum Alloy-6061 170 mm Black

Anodized




Pedals:

Aluminum Alloy Platform with Reflectors

Chain Guard: Steel Painted

Kickstand: Heavy Duty Motorcycle Style Side Stand

Stem:

Powder Coated 6061 Alloy

ZOOM Adjustable Comfort


Handler Bar: Aluminum Alloy 3" Rise Swept Back

Seat Post: Aluminum Alloy ZOOM with Suspension : 27.2mm / 350mm

Seat: Plush Padded,

Anatomically

Channeled, Leatherette Covered with Thick Rubber Cushion Springs:Color Matches Grips

Grips: Hand Stitched, Plush Padded, Leatherette Covered:Color Matches Seat

Weights: Total Weight: 62 lbs, Motor Weight:8.6 lbs, Battery Weight:

8.7 lbs

Wheelbase: Axle to Axle : 52 in

Length: Front to Back : 80 in

Height: Top of Bars : 45 in

Width: Widest Points of Bars : 28 in

Stand Over Height:Mid Top Tube To Ground: 29 in

Additional Features: 48 Volt System LED Headlight, Bell, Battery Operated LED Safety Tail light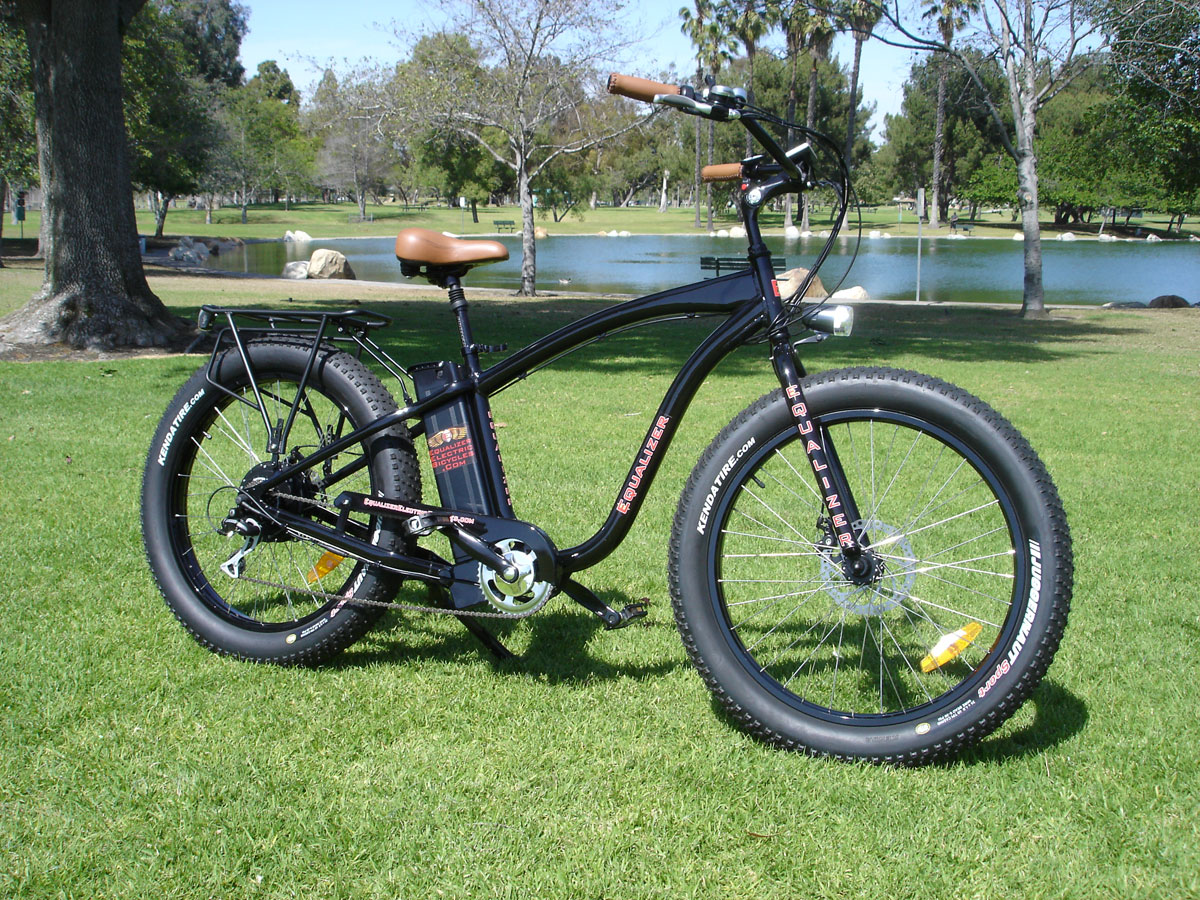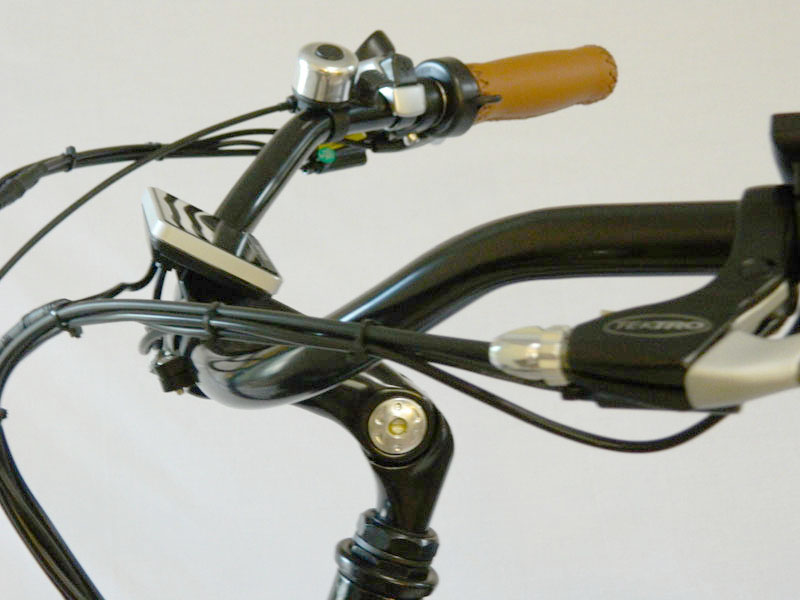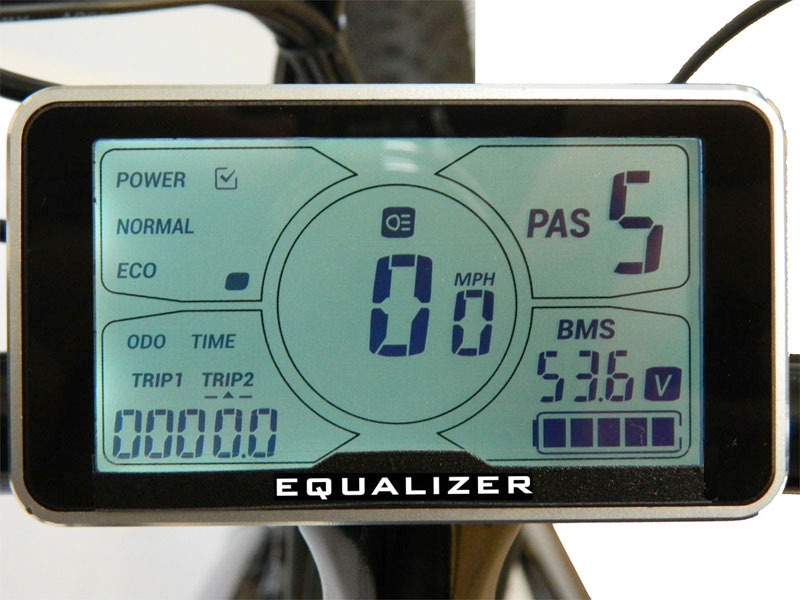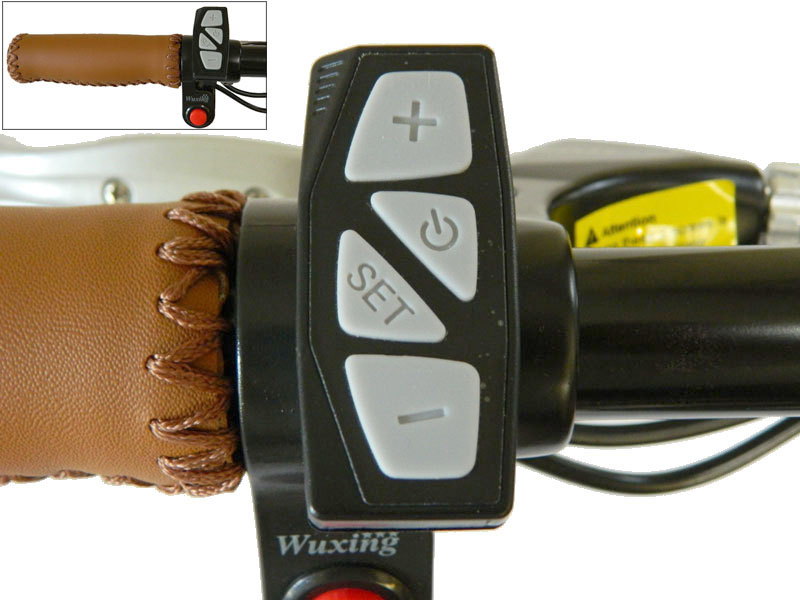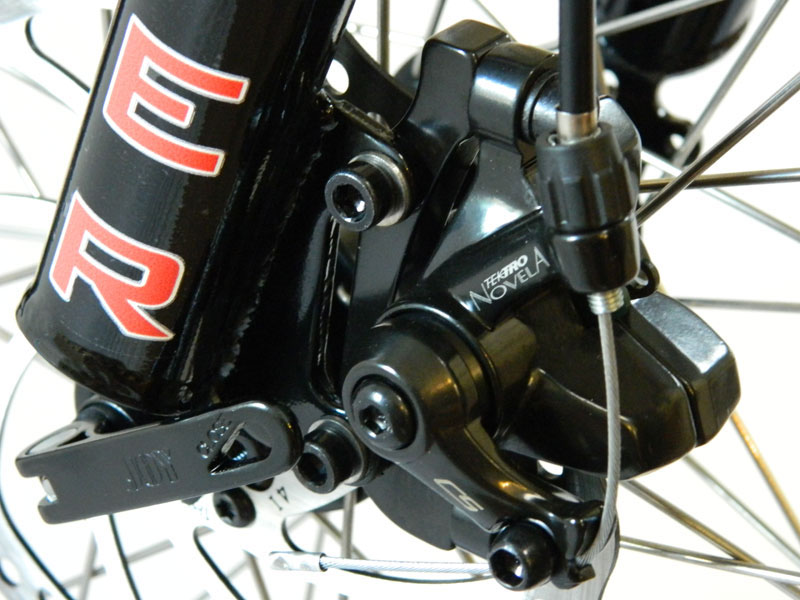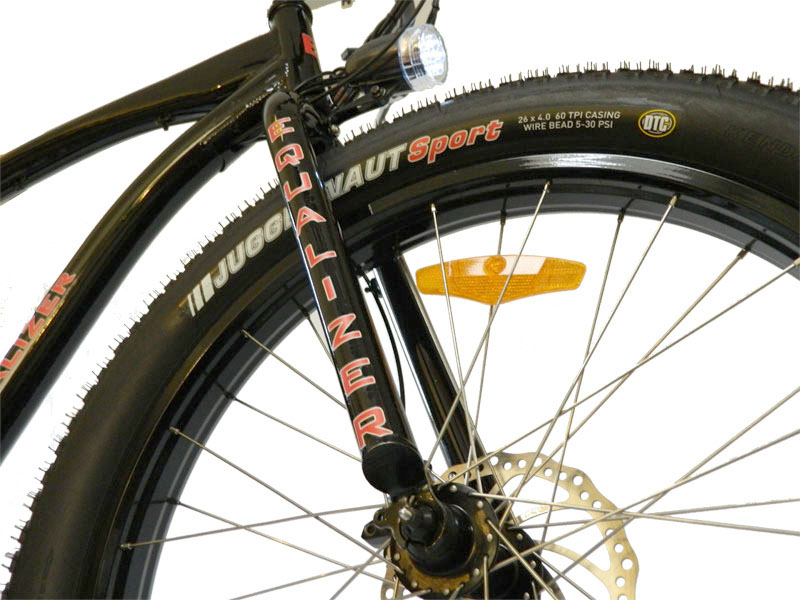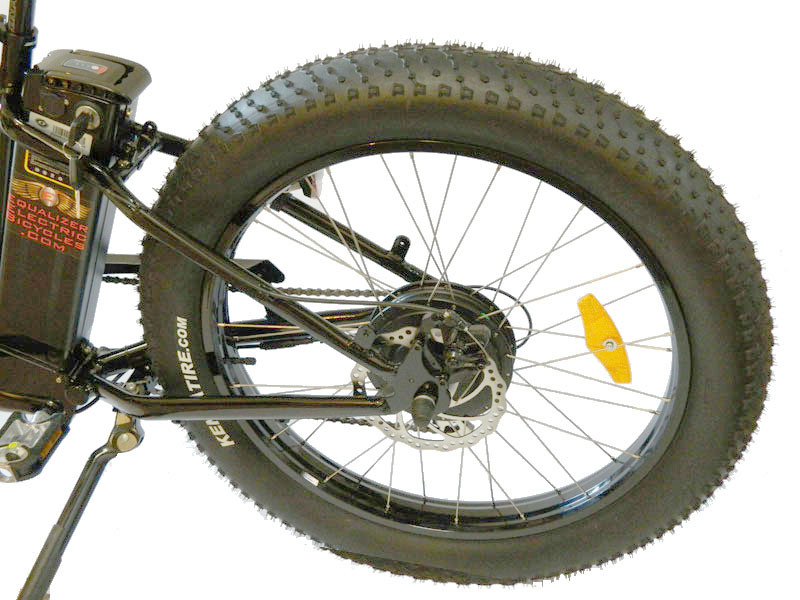 Compare our quality to all the others!!
The 5 Features That Set Equalizer Above the Rest:
1)The Frame: The MOST Important Part

Our Frame is made specifically for electric bike usage out of High Quality Aluminum Alloy 6061.
Featuring Integrated Battery Placement - battery placement under the rider - neutral - low centered - added safety for rider and battery. With a low center of gravity you get better balance and better ride quality. With a longer wheelbase you get more stability and a safer ride. Increased versatility of connection points for racks, fenders and disc brakes.

2)Power Management System:Maximization of Resources

The most advanced Power Management System Offered by any company. Design your own parameters, make your bike run exactly the way you like. Our Technology MAXIMIZES battery life and control.
Pedal Assist Mode: Engages Motor while pedaling:5 Levels of Output
Full Power Throttle: 100% Power : 100% Any Time : 100% Independent
Center Console LCD Lighted Display with Separate Headlight control


3)Power Cell - Chemistry, Voltage, Capacity & Manufacturer

We use only Lithium Ion power cells manufactured by Samsung
*Samsung Li 2600 mAh High Density 18650 Cells.
Our 48 Volt - 15 AH is the Equalizer Standard Battery.
Using the 2 amp smart charger provides the maximum utility for your battery. 2 amp chargers can double the life of the battery, saving on upkeep and giving over 1000 complete charge cycles.

4) The Motor

At 48 Volts with 500 Watts, Our Fat Tire Bike Motor is a High Efficiency, High Revving, Heavy Duty Super High Torque Gear Drive unit. Gear Drive is used to increase low end torque that is needed in hill climbing and acceleration. We use faster spinning, lower geared, wider motor cases, making it possible to increased gear size in both directions which provides longer gear life making it a true, Heavy Duty Motor Unit. Our geared motors free wheel when not in use, making it easier on the rider to pedal with the motor off.

* ONLY APPLIES TO LOWER 48 STATES.
---
We encourage comparison, that way you'll have no regrets when you buy an Equalizer Electric Fat Tire Bike.
What to look for:
1)Fact: a bike with the battery over the back wheel has bad balance.
2)Fact: a bike with the battery over the front wheel has bad balance.
3)Fact: Equalizer uses the most advanced systems available.
4)Reliability - 48 volt : 15 AH : 500 watts : Advanced Controls
5)Quality - Shimano Acera 7 speed derailleur, gears & shifter!!
6)CAREFULLY COMPARE The Facts
7)RESULT: You want the best - an Equalizer Electric Fat Tire Bike

Additional Details:
Gearing: Cassette Spacing Shimano/SRAM 7. Cassette Body Type Shimano 7. Cassette Cogs 12-14-16-18-21-26-32. Range 12-32. Number of Speeds 7.
Loads & Hill Climb:
Will accommodate a maximum load of rider & cargo up to 300 Lbs.
Hill Climbing Capabilities - Steepness - Motor Only:
Maximum Load (300 Lbs.): incline 3.5% Grade
Medium Load (140 Lbs.) : incline 10% Grade
Advanced Power Management System Features:
5 Levels of Pedal Assist System (PAS)
2 Different User Programmable modes (Customizable to Personal Preferences)
Eco Mode - Super efficient mode to maximize range per charge.
Normal Mode - For everyday use: Max 20 MPH.
Power Mode for off road use only: Allows the motor to spin 10% Faster in all levels, applies more power faster and increases top end speed slightly 22.5MPH.